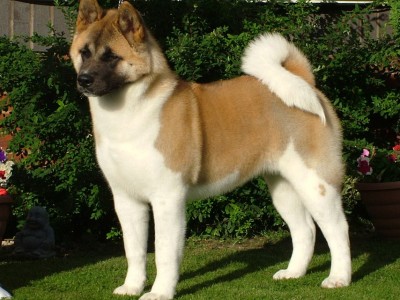 Family: spitz, Northern (hunting)
Area of origin: Japan
Original function: large game hunting, dog fighting
Average size of male: Ht: 25-28, Wt: 85-130
Average size of female: Ht: 23-26, Wt: 65-110
Other names: Akita Inu, Japanese Akita
Akita Dog Temperament
As befitting his spitz-like heritage, the Akita is bold, independent, stubborn and tenacious. Demonstrative to his family, he is utterly devoted and will protect family members. Though not the breed for everyone, in the right hands the Akita is an excellent companion.
Akita Dog Care
The Akita appreciates mental and physical exercise every day. He needs the chance to run in a safe area or on leash for a long jog. Given ample exercise and training, he can be a quiet and well-mannered house dog. The Akita is happiest if he can spend most of his time with his family. The coat needs brushing about once a week to remove dead hair, more often when shedding. Akitas tend to be somewhat messy drinkers!
Akita Dog Health
Major concerns: CHD, PRA
Minor concerns: elbow dysplasia, pemphigus, sebaceous adenitis, gastric torsion
Occasionally seen: PRA, patellar luxation, VKH-like syndrome, entropion, epilepsy, cataracts, polyneuropathy, renal cortical hypoplasia
Suggested tests: hip, elbow, eye
Life span: 10-12 years
Note: Onions have been documented to cause changes in the red-blood cells of Akitas.