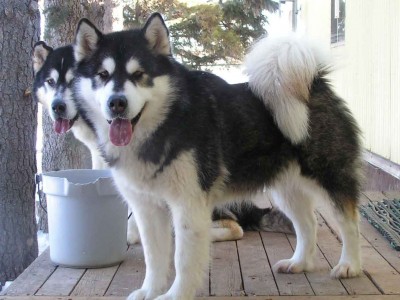 Family: spitz, Northern (draft)
Area of origin: Alaska
Original function: heavy sled pulling, large game hunting
Average size of male: Ht: 25, Wt: 85
Average size of female: Ht: 23, Wt: 75
Other names: none
Alaskan Malamute Dog Temperament
The Alaskan malamute is powerful, independent, strong-willed and fun-loving. She loves to run and roam. She is family-oriented, and as long as she is given daily exercise, she is well-mannered in the home. Without proper exercise, she can become frustrated and destructive. She is friendly and sociable toward people. Some can be domineering and some may dig and howl.
Alaskan Malamute Dog Care
The Alaskan malamute loves cold weather. She can run for miles and needs to have adequate exercise every day, either in the form of a long walk on leash or the opportunity to run or mush. She does better inside during warm weather. Her coat needs brushing once or twice a week, more often when shedding.
Alaskan Malamute Dog Health
Major concerns: CHD, ChD, cataracts
Minor concerns: renal cortical hypoplasia
Occasionally seen: gastric torsion
Suggested tests: hip, eye, ChD clear rating
Life span: 10-12 years