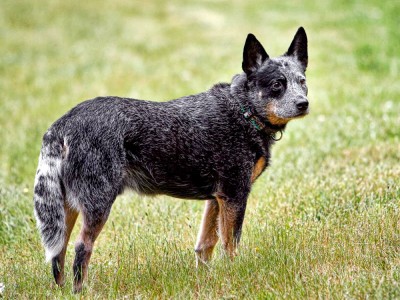 Family: livestock, herding
Area of origin: Australia
Original function: cattle herding
Average size of male: Ht: 18-20, Wt: 35-45
Average size of female: Ht: 17-19, Wt: 35-45
Other names: Queensland heeler, blue/red heeler
Australian Cattle Dog Dog Temperament
Smart, hardy, independent, stubborn, tenacious, energetic and untiring, these are all traits essential to a driver of headstrong cattle, and all traits of the Australian Cattle Dog. This dog must have a job to do or he will expend his efforts on unacceptable jobs of his own. Given challenging mental and hard physical exercise daily, he is among the most responsive and obedient of dogs, an exemplary partner in adventure. He tends to nip at the heels of running children.
Australian Cattle Dog Dog Care
The Australian Cattle Dog was bred to be active and tireless. This dog needs a lot of physical and mental activity, more than a simple walk on a leash can provide. A good jog or long workout, coupled with obedience lessons or other intellectual challenges, is essential every day. The Australian Cattle Dog is happiest when he has a job to perform. The Australian Cattle Dog needs brushing or combing weekly to remove dead hairs.
Australian Cattle Dog Dog Health
Major concerns: CHD, OCD, deafness, PRA
Minor concerns: none
Occasionally seen: cataract, lens luxation, PPM, vWD
Suggested tests: hip, hearing, eye
Life span: 10-13 years