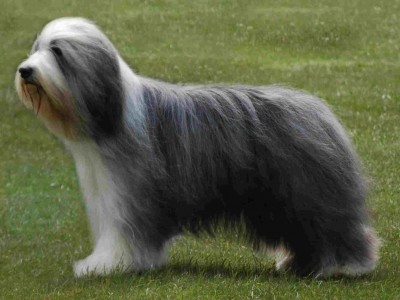 Family: livestock, herding
Area of origin: Scotland
Original function: sheep herding
Average size of male: Ht: 21-22, Wt: 45-55
Average size of female: Ht: 20-21, Wt: 45-55
Other names: none
Bearded Collie Dog Temperament
The boisterous Beardie is lively and playful, full of enthusiasm and energy. He is smart and obedient, but is an independent thinker with a clownish sense of humor.
Bearded Collie Dog Care
This active dog needs either a good jog, a very long walk or a vigorous play session every day. He especially enjoys herding. His long coat needs brushing or combing every other day.
Bearded Collie Dog Health
Major concerns: none
Minor concerns: CHD, epilepsy, colonic disease, pemphigus
Occasionally seen: CHD, aortic stenosis, PRA, PPM, cataract, vWD
Suggested tests: hip, (eye), (cardiac)
Life span: 12-14 years