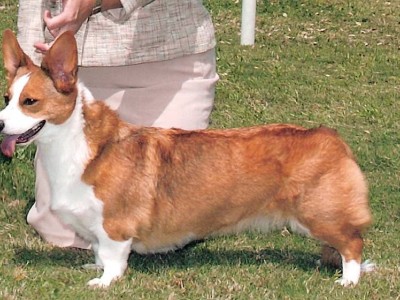 Family: livestock, herding
Area of origin: Wales
Original function: cattle driving
Average size of male: Ht: 10.5-12.5, Wt: 30-38
Average size of female: Ht: 10.5-12.5, Wt: 25-34
Other names: none
Cardigan Welsh Corgi Dog Temperament
Fun-loving and high-spirited, yet easygoing, the Cardigan is a devoted and amusing companion. This is a hardy breed, capable of a day dodging cow kicks, so he is agile and tireless. At home he is well-mannered but inclined to bark. He tends to be reserved with strangers.
Cardigan Welsh Corgi Dog Care
The Cardigan needs a surprising amount of exercise for its size. His needs can best be met with a moderate walk or vigorous play session. He is a very good house dog and best when he is allowed access to both house and yard. His coat needs brushing once a week to remove dead hair.
Cardigan Welsh Corgi Dog Health
Major concerns: CHD
Minor concerns: PRA
Occasionally seen: urolithiasis, PRA
Suggested tests: hip, (eye), (DNA test for PRA)
Life span: 10-12 years