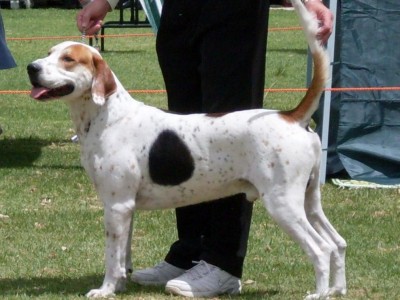 Family: Scenthound
Area of origin: Great Britain
Original function: trailing fox
Average size of male: Ht: 23-27, Wt: 55-75
Average size of female: Ht: 23-27, Wt: 55-75
Other names: Foxhound
English Foxhound Dog Temperament
Traditionally a pack hound, the English Foxhound nonetheless makes a stately house dog, as long as he has human or canine companionship. He gets along well with horses, dogs, children and other pets. He is an avid sniffer and trailer, however, and needs daily exercise in a safe area. He is a tolerant, amiable and gentle dog, even though he is not very demonstrative. He bays.
English Foxhound Dog Care
The Foxhound is an easygoing dog that nonetheless needs plenty of exercise. He is bred to run for miles, and can make a good jogging companion on leash or a hiking companion in a safe area. The coat needs only occasional brushing to remove dead hair.
English Foxhound Dog Health
Major concerns: none
Minor concerns: none
Occasionally seen: CHD, renal disease
Suggested tests: none
Life span: 10-13 years