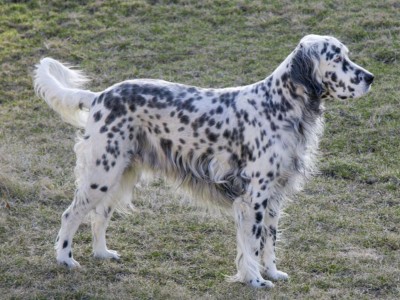 Family: gundog, setter, pointer
Area of origin: England
Original function: bird setting and retrieving
Average size of male: Ht: 25, Wt: 60-65
Average size of female: Ht: 24, Wt: 50-55
Other names: none
English Setter Dog Temperament
Bred to cover a lot of area when hunting, the English setter is a lively dog that loves to hunt and run. This is especially true of dogs from field lines. If not given sufficient exercise, they can be overly lively inside. With daily exertion, however, they are calm and tractable house dogs. Those from conformation lines are particularly laid-back and gentle and excel with children and less active adults. This is an amiable, easygoing breed that gets along well with children, strangers and other dogs.
English Setter Dog Care
The English setter needs a lot of exercise every day, requiring at least an hour of hard exertion. He does best when he can live inside and play outside. The long coat needs regular brushing every two or three days. The white coat may be difficult to keep gleaming in some areas. Some clipping and trimming every month or two is advisable for optimal good looks.
English Setter Dog Health
Major concerns: deafness, CHD, elbow dysplasia
Minor concerns: PRA, OCD
Occasionally seen: epilepsy
Suggested tests: hip, elbow, hearing, eye
Life span: 10-14 years