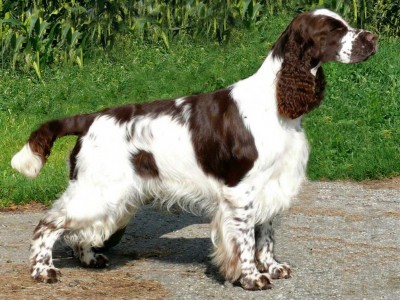 Family: gundog, spaniel
Area of origin: England
Original function: bird flushing and retrieving
Average size of male: Ht: 19-21, Wt: 50
Average size of female: Ht: 18-20, Wt: 40
Other names: none
English Springer Spaniel Dog Temperament
The English springer spaniel is cheerful, playful and energetic, ready for a day in the field and an evening by the hearth. He does everything with gusto and can be overly enthusiastic unless given plenty of exercise. The typical springer is the ideal family companion.
English Springer Spaniel Dog Care
As an energetic and inquisitive dog, the springer needs daily mental and physical exertion. An outing in the field, long walk on leash and good obedience lesson can go far to making the springer a calm and well-behaved house dog. This breed does best if allowed to live in the house with access to a yard. His coat needs brushing or combing one or two times weekly plus clipping and scissoring every three months. Springers from field, rather than show, lines tend to have less coat.
English Springer Spaniel Dog Health
Major concerns: otitis externa, CHD, PRA, elbow dysplasia
Minor concerns: ectropion, entropion
Occasionally seen: phosphofructokinase deficiency, skin fragility, gastric torsion, rage syndrome
Suggested tests: hip, elbow, eye, DNA for phosphofructokinase deficiency
Life span: 10-14 years