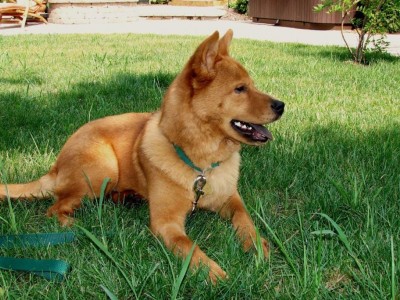 Family: Spitz, Northern (hunting)
Area of origin: Finland
Original function: hunting birds and small mammals
Average size of male: Ht: 17.5-20, Wt: 31-36
Average size of female: Ht: 15.5-18, Wt: 23-29
Other names: suomenpystykorva, Finsk spets
Finnish Spitz Dog Temperament
Like most Spitz breeds, the Finkie is independent and somewhat stubborn, although he is more hunting oriented than other Spitz breeds. He is alert, inquisitive and playful, but is also sensitive, tending to be devoted to one person. He is a breed conscious of his place in the dominance hierarchy, and some males can try to be domineering. He is good with children, and generally good with other pets. He can be reserved, even aloof or suspicious, with strangers. In keeping with his barking heritage, the Finkie is proud of his barking ability and likes to show it off loudly!
Finnish Spitz Dog Care
This is an active and lively breed that needs daily exercise, either a long walk on leash or a run in a fenced area. As Finkies are hunters by nature, care must be taken that they do not go off on a hunt by themselves. The Finkie enjoys living indoors. His double coat needs brushing one or two times weekly, more often when shedding. He is not oily, so the Finkie has little doggy odor; in fact, the Finkie is a particularly clean breed.
Finnish Spitz Dog Health
Major concerns: none
Minor concerns: none
Occasionally seen: CHD, patellar luxation, epilepsy
Suggested tests: none
Life span: 12-14 years