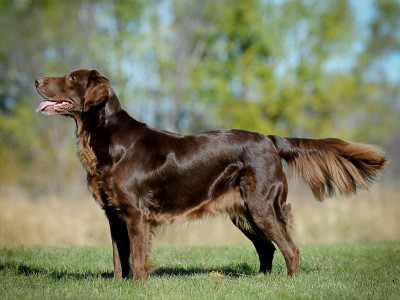 Family: gundog, retriever, water dog
Area of origin: England
Original function: water retrieving
Average size of male: Ht: 23-24.5, Wt: 60-70
Average size of female: Ht: 22-23.5, Wt: 60-70
Other names: none
Flat-Coated Retriever Dog Temperament
The flat-coated retriever is a sweet, exuberant, lively dog that loves to play and retrieve. She is on the go outdoors, but quiet indoors. This breed is among the most devoted and companionable of dogs, a true family dog. She needs regular exercise to be on her best behavior, however. She is a sensitive breed and very responsive to training. Her hallmark is her wagging tail.
Flat-Coated Retriever Dog Care
This active dog needs daily exercise and fun, and especially enjoys the chance to hunt or swim. This is a family-oriented dog that does best when allowed to live inside and play outside. Her coat needs only weekly brushing and little, if any, minor trimming occasionally.
Flat-Coated Retriever Dog Health
Major concerns: none
Minor concerns: CHD
Occasionally seen: PRA, epilepsy, diabetes
Suggested tests: (hip), (knee), (eye)
Life span: 10-14 years