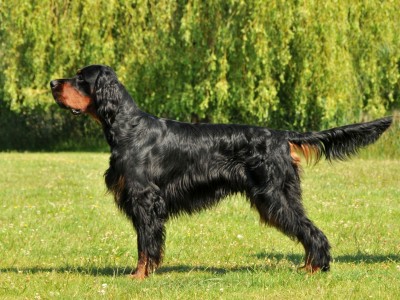 Family: gundog, setter, pointer
Area of origin: Great Britain (Scotland)
Original function: bird setting and retrieving
Average size of male: Ht: 24-27, Wt: 55-80
Average size of female: Ht: 23-26, Wt: 45-70
Other names: none
Gordon Setter Dog Temperament
The Gordon setter is a capable, close-working bird dog. He can run and hunt all day, and this kind of energy needs a regular outlet or the dog is apt to become frustrated. Gordons make lively, enthusiastic companions and need the company of lively people. Somewhat more protective than the other setters, they can be reserved toward strangers. The Gordon has earned his reputation as a devoted family dog.
Gordon Setter Dog Care
The Gordon needs much strenuous exercise every day in order to stay in shape. He must be able to spend ample time with people and does best dividing his time between inside and outside. His coat needs regular brushing and combing every two to three days. In addition, some clipping and trimming is needed for optimal good looks.
Gordon Setter Dog Health
Major concerns: CHD, gastric torsion
Minor concerns: PRA, elbow dysplasia
Occasionally seen: cerebellar abiotrophy
Suggested tests: hip, elbow, eye
Life span: 10-12 years