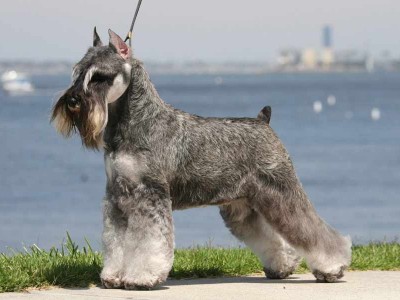 Family: terrier
Area of origin: Germany
Original function: ratting
Average size of male: Ht: 12-14, Wt: 13-15
Average size of female: Ht: 12-14, Wt: 13-15
Other names: zwergschnauzer
Miniature Schnauzer Dog Temperament
The miniature schnauzer deserves his place as one of the most popular terrier pets. He is playful, inquisitive, alert, spunky and companionable. He is a well-mannered house dog that also enjoys being in the middle of activities. He is less domineering than the larger schnauzers. He is also better with other animals than most terriers, although he will gladly give chase. He is clever and can be stubborn, but he is generally biddable. He enjoys children. Some may bark a lot.
Miniature Schnauzer Dog Care
This energetic breed can have his exercise requirements met with a moderate walk on leash or a good game in the yard. He needs to share his life with his family inside the home. His wire coat needs combing once or twice weekly, plus scissoring and shaping every couple of months.
Miniature Schnauzer Dog Health
Major concerns: urolithiasis, PRA
Minor concerns: follicular dermatitis, esophageal achalasia, vWD
Occasionally seen: pulmonic stenosis, Legg-Perthes, cataract
Suggested tests: eye, DNA test for vWD, (cardiac)
Life span: 12-14 years