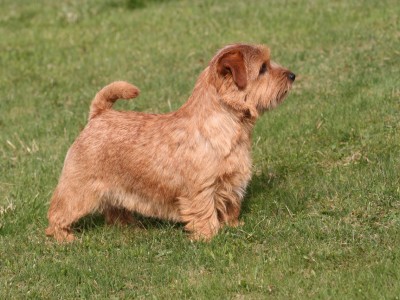 Family: terrier
Area of origin: England
Original function: ratting, fox bolting
Average size of male: Ht: 9-10, Wt: 11-12
Average size of female: Ht: 9-10, Wt: 11-12
Other names: none
Norfolk Terrier Dog Temperament
Feisty, bold, inquisitive, game, scrappy, stubborn and independent, the Norfolk is all terrier. She has been called a "demon" in the field, and she loves to hunt, dig and investigate. She must be exercised in a safe area. SHe is clever and amiable but strong-willed.
Norfolk Terrier Dog Care
The Norfolk terrier needs an exercise outing every day, either a short to moderate walk or a lively and boisterous play session. She especially likes to hunt and investigate, but she must do so in a safe area. She is such a family-oriented dog that she is emotionally unsuited for outdoor living. She does best as a house dog with access to a yard. Her wire coat needs combing once or twice weekly, plus stripping of dead hairs three to four times yearly.
Norfolk Terrier Dog Health
Major concerns: none
Minor concerns: none
Occasionally seen: cardiomyopathy, patellar luxation
Suggested tests: (cardiac), (knee)
Life span: 13-15 years