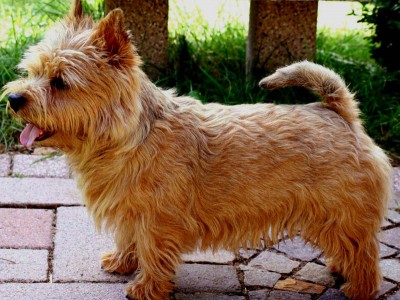 Family: terrier
Area of origin: England
Original function: ratting, fox bolting
Average size of male: Ht: 10, Wt: 12
Average size of female: Ht: 10, Wt: 12
Other names: none
Norwich Terrier Dog Temperament
The Norwich terrier, like the Norfolk, is a true terrier at heart, always ready for adventure and excitement. He is a hunter and may chase small animals. He is a pert, independent, amusing — but sometimes challenging — companion, best suited for people with a sense of adventure and humor.
Norwich Terrier Dog Care
The Norwich needs to stretch his legs with a good walk or short run every day. He especially likes combining a run with a chance to explore, but any such off-leash expeditions must be done only in a safe area. He is better suited as a house dog with yard access. His wiry coat needs combing one to two times weekly, plus stripping of dead hairs three to four times a year.
Norwich Terrier Dog Health
Major concerns: none
Minor concerns: none
Occasionally seen: cardiomyopathy, patellar luxation
Suggested tests: (cardiac), (knee)
Life span: 13-15 years