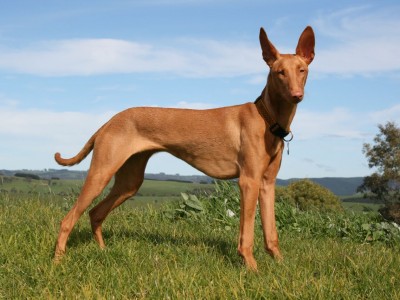 Family: sighthound, Southern(pariah), primitive
Area of origin: Malta
Original function: hunting rabbits
Average size of male: Ht: 23-25, Wt: 45-55
Average size of female: Ht: 21-24, Wt: 45-55
Other names: kelb-tal fenek
Pharaoh Hound Dog Temperament
The svelte Pharaoh Hound is more than a gracious addition to the home (though he surely is that) he is a keen hunter and an exuberant chaser. Although he is calm indoors, he loves to run. He is sensitive, loving, gentle and good with children and other dogs. He tends to be reserved with strangers; some pharaoh hounds are even timid. He is independent but willing to please. The breed has the unique characteristic of "blushing" when excited, with the nose and ears turning a rosy color.
Pharaoh Hound Dog Care
The Pharaoh Hound relishes the opportunity to stretch his legs in a safe area, although he can manage with long daily walks on leash and occasional sprints. He needs soft bedding and warmth and generally should not be expected to sleep outside. His coat is low maintenance, requiring only occasional brushing to remove dead hair.
Pharaoh Hound Dog Health
Major concerns: none
Minor concerns: none
Occasionally seen: none
Suggested tests: none
Life span: 11-14 years