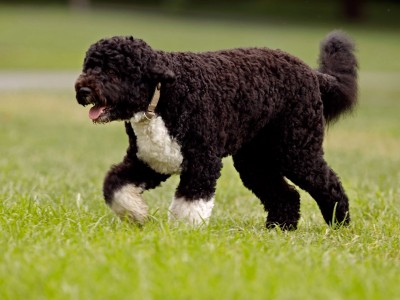 Family: gundog, water dog
Area of origin: Portugal
Original function: fishing aid
Average size of male: Ht: 20-23, Wt: 42-60
Average size of female: Ht: 17-21, Wt: 35-50
Other names: cao de agua
Portuguese Water Dog Dog Temperament
The gregarious Portuguese water dog is a fun-loving, family-loving, water-loving dog. He is good with children, and other dogs and pets. He is sensitive and responds well to direction. He is a good breed for an active person wanting an adventurous, affectionate, biddable partner.
Portuguese Water Dog Dog Care
This active breed needs daily physical and mental exercise, preferably involving swimming and retrieving. Otherwise, he needs a long walk or jog or a vigorous romp. He is happiest living close to his family. His coat needs combing every other day, plus monthly clipping or scissoring.
Portuguese Water Dog Dog Health
Major concerns: PRA, CHD
Minor concerns: glycogen storage disease, distichiasis
Occasionally seen: none
Suggested tests: eye, hip
Life span: 10-14 years