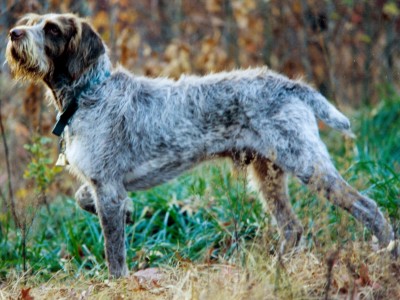 Family: gundog, pointer
Area of origin: Italy
Original function: pointing and retrieving
Average size of male: Ht: 23.5-27.5, Wt: 71-82
Average size of female: Ht: 22.5-25.5, Wt: 62-71
Other names: Italian Spinone
Spinone Italiano Dog Temperament
This is a devoted and gentle dog, very willing to please. She is affectionate and gets along well with other dogs and pets and children. She is also courageous. The spinone is calmer and easier going than most pointing breeds.
Spinone Italiano Dog Care
Like all sporting dogs, the spinone needs daily exercise. This can take the form of a long walk or good run off leash. She is a family dog and prefers to share time with her people. Coat care consists of weekly brushing, plus occasional hand-stripping to neaten the face and feet.
Spinone Italiano Dog Health
Major concerns: CHD
Minor concerns: ectropion, gastric torsion, otitis externa
Occasionally seen: cerebral ataxis
Suggested tests: hip, (eye)
Life span: 12-14 years