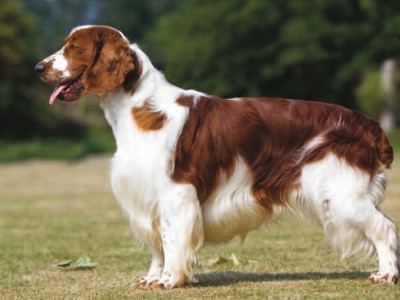 Family: gundog, spaniel
Area of origin: Wales
Original function: bird flushing and retrieving
Average size of male: Ht: 18-19, Wt: 35-45
Average size of female: Ht: 17-18, Wt: 35-45
Other names: none
Welsh Springer Spaniel Dog Temperament
Less exuberant that the English springer, the Welsh springer spaniel is steady and easygoing. She still needs plenty of hard exercise, however, as she loves to hunt for birds. She is extremely devoted to her family, but she is independent in nature.
Welsh Springer Spaniel Dog Care
The Welsh needs daily exercise, which can be met with long walks on leash combined with strenuous games in the yard. She especially likes jaunts afield and makes a good hiking companion. She does best living inside with her family. The coat needs brushing once or twice weekly and also needs occasional scissoring to neaten stragglers.
Welsh Springer Spaniel Dog Health
Major concerns: CHD
Minor concerns: glaucoma, otitis externa, epilepsy
Occasionally seen: cataract
Suggested tests: hip, (eye)
Life span: 12-15 years