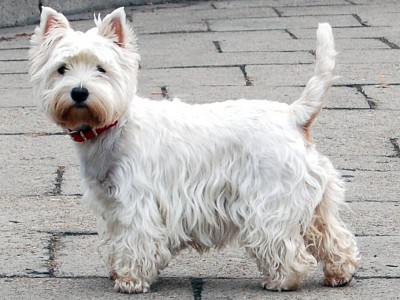 Family: terrier
Area of origin: Scotland
Original function: fox, badger, and vermin hunting
Average size of male: Ht: 11, Wt: 15-21
Average size of female: Ht: 10, Wt: 15-21
Other names: Poltalloch terrier
West Highland White Terrier Dog Temperament
The busy Westie is happy, curious and always in the thick of things. She is affectionate and demanding, one of the friendliest terriers. She is not friendly, however, toward small animals. She enjoys a daily romp in a safe area or a walk on lead, as well as playtime at home. She is independent and somewhat stubborn and may bark and dig.
West Highland White Terrier Dog Care
The Westie needs either a short to moderate walk on leash or a good game in the yard every day. Her wire coat needs combing two or three times weekly, plus shaping every three months. Shaping for pets is by clipping or stripping. In some areas, it may be difficult to keep her coat white.
West Highland White Terrier Dog Health
Major concerns: globoid cell leukodystrophy, Legg-Perthes, CMO
Minor concerns: copper toxicosis, cataract, patellar luxation
Occasionally seen: deafness
Suggested tests: hip, knee
Life span: 12-14 years