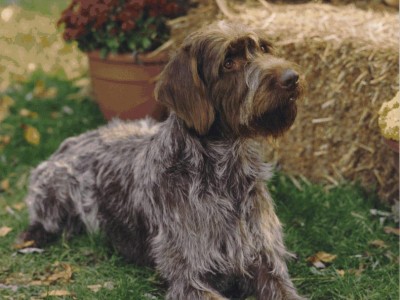 Family: gundog, pointer, versatile hunting dog
Area of origin: France
Original function: pointing, retrieving
Average size of male: Ht: 22-24, Wt: 50-60
Average size of female: Ht: 20-22, Wt: 50-60
Other names: Korthals griffon, pointing wirehaired griffon, griffon D'Arr't a poil dur
Wirehaired Pointing Griffon Dog Temperament
The wirehaired pointing griffon is a skilled field dog, pointing and retrieving with a deliberate style, generally staying within the hunter's gun range. He combines independent action with the ability to be directed by the hunter. He is an equally adept family pet, absolutely devoted, willing to please, amiable and often comical. He is generally friendly toward strangers, other dogs and pets.
Wirehaired Pointing Griffon Dog Care
The wirehaired pointing griffon needs daily exertion, either in the form of jogging, games or a run in the field. He particularly enjoys swimming. He does best when allowed to be both an indoor and outdoor dog. His harsh coat needs combing or brushing once or twice a week, plus hand-stripping to remove dead hair twice a year. His ears need regular cleaning and plucking of hair within the canal in order to avoid ear problems.
Wirehaired Pointing Griffon Dog Health
Major concerns: none
Minor concerns: CHD, otitis externa, entropion, ectropion
Occasionally seen: none
Suggested tests: (hip), (eye)
Life span: 12-14 years